Teacher Staff Raffle Draw
Last week the PTA distributed the prizes listed below to the winners of the Teacher Staff Raffle. Thank you to everyone who participated and especially all those who donated prizes. If you have a question about any of the item please reach out to us.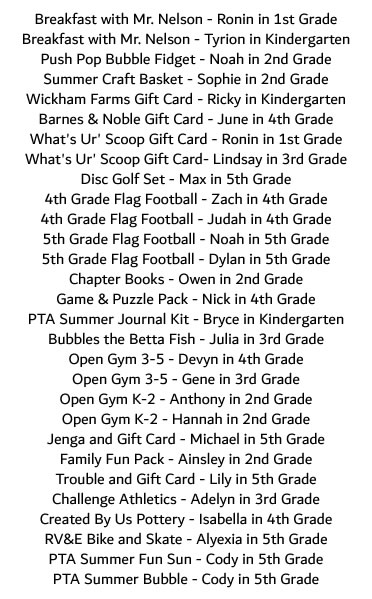 5th Grade Committee and Celebration Information
Click here for 5th Grade Committee Information
Our 5th Grade Committee page will be updated throughout the spring as the numerous events celebrating our the 5th Grade graduation draw near.
2020-2021 General Meetings
Meeting minutes from this year are posted here: http://harrishill-pta.org/documents/
General meeting dates from 2020-2021: are as follows:
September 22

November 17

January 19

March 16

May 18
Check in with us on Facebook, Twitter or by signing up for our eNews (see links to the right) for information on meetings and new volunteer opportunities.
---
---